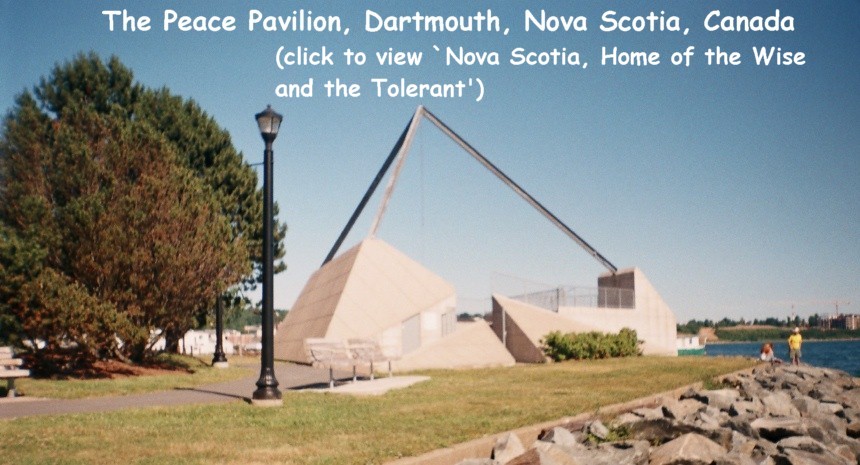 Disclaimer & Copyright Notices
Optimized for the MS Edge



Freshwater-
Master Homepage
Updated directory: April 13, 2017
(Note: Most clickable links are visible with a subtle change in colour; though a few links are visible as underlined words as well.)

Primary index:

Overview Limnology References Pollution Sewage Management Restoration
Lake/River Management Our accomplishments/models Lakes/Rivers-NS Regulators-NS

Climate change Individual empowerment Fisheries/Recreational Uses (lakes/rivers) Marine
Public Art Culture Credits and our history Media articles (lake/river issues) Professional Ethics

Knowledge_Videos-(link is opened in a new window) Our present emphasis: Stage III and IV protocols
Overview:

What we as individuals can do in our own backyards in order to minimize export of typical stressors to downstream lakes/rivers:- Watch a narrative of former Halifax County Drainage Engineer in a half-hour video titled, "Environmental Impact on Water Courses" (link is opened in a new window). The recommendations in the video will not remove all the incremental stressors. In practice, we prefer centralized treatment systems along with such stakeholder action.




Comprehensive municipal stormwater treatment is not a common practice. Laser particle sizing has indicated that a considerable proportion of the particulates in road runoff are less than 10 µm. This size fraction is difficult to capture in most stormwater pollution control devices and has been shown to contain significant quantities of heavy metals, phosphorus, and other stressors which are of concern in aquatic ecosystems. In addition, several stressors are in soluble form which may require centralized tertiary treatment and perpetual maintenance.
"Never doubt that a small group of concerned citizens can change the world. Indeed, it is the only thing that ever has." ........ Margaret Mead
Shalom M. Mandaville Post-Grad Dips., Soil & Water Conservation Society of Metro Halifax (SWCSMH) with varied assistance from our leading scientist-partners (present/past) and other professionals, mostly published/peer reviewed.
Overview on our founding and update: We were founded on the express encouragement of the Hon. John Leefe and senior staff of the Nova Scotia Environment Department in 1989. The inaugural invitation was sent to a host of provincial and municipal bodies. Our extensive scientific research, to various degrees, is conducted as volunteers.
The Challenge of Change, Our Province, Our Future, Our Choice, March 1991.
Leading references, and illuminating reports by other scientists & consultants worldwide

Advanced textbooks & popular handbooks in limnology, and lake management:-

(textbook) Mackie, G.L. 2004. Applied Aquatic Ecosystem Concepts. Second Ed. Kendall/Hunt Publishing Company. 784 pp. ISBN 0-7575-0883-9. <-- (excellent undergrad/grad reference in limnology; also includes reference tables for the more advanced professional)
(paleolimnology text) Smol, J.P. 2008. Pollution of Lakes and Rivers: A Paleoenvironmental Perspective. 2nd ed. Blackwell Publishing, Oxford. x,383 pp. ISBN-13: 978-1-4051-5913-5.

(textbook) Wetzel, R.G. 2001. Limnology. Lake and River Ecosystems. Third Ed. Academic Press, San Diego. xvi, 1006 pp. ISBN 0-12-744760-1.

(textbook) Wetzel, R.G., and Likens, G.E. 2000. Limnological Analyses. 3rd Ed. Springer, New York. xv, 429 pp.


(CCME) Canadian Environmental Quality Guidelines Summary Table (it also has links to introductory text, factsheet, and/or protocols for specific information and implementation guidance pertaining to each environmental quality guideline). (link is opened in a new window)
(CCME) Fact sheet for the phosphorus guidance framework, CCME, 2004 (link is opened in a new window)
(CCME) Krzyzanowski, J. 2010., Krzyzanowski Consulting. Review and Identification of Research Needs to Address Key Issues Related to Reactive Nitrogen (RN) Deposition and Eutrophication in a Canadian Context. Final Report. Prepared for: Acid Rain Task Group Canadian Council of Ministers of the Environment. PN 1450. 96p. (link is opened in a new window)
(CCME) Developing Biocriteria as a Water Quality Assessment Tool, CCME, 2006 (Canadian Council of Ministers of the Environment) (link is opened in a new window)


(USEPA handbook on streams) A Function-Based Framework for Stream Assessment and Restoration Projects. 2012. Harman, W., Starr, R., Carter, M., Tweedy, K., Clemmons, M., Suggs, K., and Miller, C. 2012. US Environmental Protection Agency, Office of Wetlands, Oceans, and Watersheds, Washington, DC. EPA 843-K-12-006. 344pp. (link is opened in a new window)

(NALMS & USEPA handbook on lakes) Holdren, C., Jones, W., and Taggart, J. 2001. Managing Lakes and Reservoirs. EPA 841-B-01-006. N. Am. Lake Manage. Soc. and Terrene Inst., in coop. with Off. Water Assess. Watershed Prot. Div. U.S. Environ. Prot. Agency, Madison, WI. xiv, 382 pp. (link is opened in a new window)

(NALMS & USEPA handbook on lakes) Wedepohl, R.E., D.R. Knauer, G.B. Wolbert, H. Olem, P.J. Garrison, and K. Kepford. 1990. Monitoring Lake and Reservoir Restoration. EPA 440/4-90-007. Prep. by N. Am. Lake Manage. Soc. for U.S.E.P.A. 142 pp. (link is opened in a new window)


1. Stoessel, D. 2009. Artificial aeration of Lake Bullen Merri: review of operations. Fisheries Revenue Allocation Committee, Department of Environment and Primary Industries, Victoria, Australia. ISSN 1833-3478; ISBN 978-1-74217-637-6. (link is opened in a new window)


Brock, H., Jean, K., and Veliz, M. 2011. Community-Based Biodiversity Strategy for the Port Franks Area-Draft. Ausable Bayfield Conservation Authority. 38p.
Favalaro, J., and Lompart, J. 2012. Benthic Macroinvertebrate Study, Thames River. Environmental and Engineering Services Dept., Wastewater Treatment Operations, City of London, Canada. 119p.
Fiera (Fiera Biological Consulting Ltd). 2013. State of the Watershed Report - Phase 3: Water Quantity and Basic Water Quality in the Athabasca Watershed. Report prepared for the Athabasca Watershed Council. Fiera Biological Consulting Report #1234. 802pp. (link is opened in a new window)
Henri de Pennart and Roy Crowther, Alpine Environmental Ltd., Tim Taylor and Mike Morden, Petro-Canada, and Shawna Mattison, Pembina Pipeline Corporation. The Use Of Ecological Risk Assessment For Regional Management Of Aquatic Impacts.
Jacques Whitford Environment Limited. April, in association with Atlantic Road & Traffic Management, & Hydro-Com Technologies Ltd., April 2005. Final Draft Report to Nova Scotia Department of Transportation and Public Works on Environmental Assessment Highway 104 Antigonish. Project No. NSD16949. (link is opened in a new window)


Meissner, A.G.N., Carr, M.K., Phillips, I.D., and Lindensch, K-E. 2016. Using a Geospatial Model to Relate Fluvial Geomorphology to Macroinvertebrate Habitat in a Prairie River—Part 2: Matching Family-Level Indices to Geomorphological Response Units (GRUs). Water 2016, 8(3), 107; doi:10.3390/w8030107. Meissner, A.G.N., Carr, M.K., Phillips, I.D., and Lindensch, K-E. 2016. Using a Geospatial Model to Relate Fluvial Geomorphology to Macroinvertebrate Habitat in a Prairie River—Part 2: Matching Family-Level Indices to Geomorphological Response Units (GRUs). Water 2016, 8(3), 107; doi:10.3390/w8030107. (link is opened in a new window)

Ministère du Développement Durable, de L'Environnement, de la Faune et Des Parcs (MDDEFP), 2013. Guide de surveillance biologique basée sur les macroinvertébrés benthiques d'eau douce du Québec – Cours d'eau peu profonds à substrat grossier, 2013. Direction du suivi de l'état de l'environnement, ISBN 978-2-550-69169-3 (PDF), 2e édition : 88 p. (incluant 6 ann.). (link is opened in a new window)
St. Clair Region Conservation Authority, Ontario. 2008. Watershed Report Crd. 39pp.
Stantec. 2007. Town of Lakeshore 2006 Benthic Invertebrate Survey. 36 pg.


Barman, B., and Gupta, S. 2016. Assemblage of coleoptera and hemipteran community in a stream of Chakrashila Wildlife Sanctuary in Assam. Tropical Ecology 57(2): 243-253, 2016. ISSN 0564-3295.

Gupta, K., Verma, S.C., and Thakur, M. 2015. Assessment of surface water quality and associated aquatic insect fauna under different land uses of Barotiwala area, Solan, Himachal Pradesh. International Journal of Farm Sciences. 5(1): 168-176.

Indian Council of Agricultural Research. M.F.Sc & PhD Programs in Aquatic Environment Management – Syllabus. 29p.


Mahazar, A., Shuhaimi-Othman, M., Kutty, A.A., and Desa, M.N.M. 2013. Monitoring Urban River Water Quality Using Macroinvertebrate and Physico-Chemical Parameters: Case study of Penchala River, Malaysia. Journal of Biological Sciences: 13: 474-482.
Wahizatul, A.A., Long, S.H. and Ahmad, A. 2011. Composition and distribution of aquatic insect communities in relation to water quality in two freshwater streams of Hulu Terengganu, Terengganu. Journal of Sustainability Science and Management. Volume 6 Number 1, June 2011: 148-155. ISSN: 1823-8556.


1. Labajo-Villantes, Y.I., and Nuñeza, O.M. 2015. Macroinvertebrates as bioindicators of water quality in Labo and Clarin rivers, Misamis Occidental, Philippines. International Journal of Biosciences (IJB). Vol. 6, No. 9, p. 62-73.


Barba-Álvarez, R., De la Lanza-Espino, G., Contreras-Ramos, A., and González-Mora, e I. 2013. Aquatic insects indicators of water quality in Mexico: study cases, Copalita, Zimatán and Coyula rivers , Oaxaca. Rev. Mex. Biodiv. vol.84no.1 México mar. 2013
Frederico Guilherme de Souza Beghelli, André Cordeiro Alves dos Santos; Maria Virgínia Urso-Guimarães; and Maria do Carmo Calijuri. 2012. Relationship between space distribution of the benthic macroinvertebrates community and trophic state in a Neotropical reservoir (Itupararanga, Brazil). Biota Neotrop. vol.12 no.4 Campinas Oct./Dec. 2012. 12p. ISSN1676-0603.


1. Sripongpun, Guntharee. Benthic Macroinvertebrates as a Biological Index of Water Quality in the Lower Thachin River. pp. 168-193.


1. Revenga, C. and Y. Kura. 2003. Status and Trends of Biodiversity of Inland Water Ecosystems. Secretariat of the Convention on Biological Diversity, Montreal, Technical Series no. 11. (link is opened in a new window)


1. Orzetti, L., Ecosystem Solutions, Inc. 2008. An Analysis of Forest Riparian Buffer Zones on Military Installations in the Chesapeake Bay Watershed. Department of Defense Legacy Resource Management Program. Under Legacy 06/7-305. 14p. (link is opened in a new window)

Sauer, J. 2004. Multiyear synthesis of the macroinvertebrate component from 1992 to 2002 for the Long Term Resource Monitoring Program. 2004. Final report submitted to U.S. Army Corps of Engineers from the U.S. Geological Survey, Upper Midwest Environment Sciences Center, La Crosse, Wisconsin, December 2004. Technical Report LTRMP 2004-T005. 31 pp. + Appendixes A C. (link is opened in a new window)
Wolff, R.H., 2005. Feasibility of using benthic invertebrates as indicators of stream quality in Hawaii: U.S. Geological Survey Scientific Investigations Report 2005-5079, 78p. (link is opened in a new window)


1. Rust, J.D., and Troelstrup, Jr., N.H. 2006. Descriptive Analysis of Aquatic Invertebrate Communities in Wadeable and Non-Wadeable Streams of the Northern Great Plains Network. Proceedings of the South Dakota Academy of Science, Vol. 85. Pp. 49-61. (link is opened in a new window)

[Return to primary index]
Limnology
Paleolimnology: "Typical questions that a paleolimnologist might address may include: Why did the lake lose its deepwater oxygen, or was it naturally anoxic? Did the lake naturally have large algal blooms? If so, then perhaps mitigation efforts are fruitless as this is the lake's "natural state". At what point in time, and at what level of nutrient enrichment, did eutrophication symptoms become a problem? All these as well as many other questions need to be considered in an historical context."


OECD: Eutrophication of Waters- Monitoring, Assessment and Control; 15-year multi peer-consensus studies of 18 countries of the western economies, at 50 institutes.


Top Limnology Medals
[Return to primary index]
Pollution
Eutrophication

is the response in water due to overenrichment by nutrients, primarily phosphorus and nitrogen, and can occur under natural or manmade (anthropogenic) conditions. Manmade (or cultural) eutrophication, in the absence of control measures, proceeds at an accelerated rate compared to the natural phenomenon and is one of the main forms of water pollution. The resultant increase in fertility of affected lakes, reservoirs, slow-flowing rivers and certain coastal waters causes symptoms such as algal blooms (with

potential toxicity in cases

), heavy growth of rooted aquatic plants (macrophytes), algal mats, deoxygenation and, in some cases, unpleasant odour, which often affects most of the vital uses of the water such as water supply, recreation, fisheries (both commercial and recreational), or aesthetics. In addition, lakes become unattractive for bathing, boating and other water oriented recreations. Most often economically and socially important species, such as salmonids decline or disappear and are replaced by coarser fish of reduced economic/social value.




[Return to primary index]
Sewage Management
[Return to primary index]
Lake/River Management
[Return to primary index]
Restoration


[Return to primary index]
Our accomplishments
Our Accomplishments
Lake Data

Note: It is impractical to publish all of our extensive archives of chemical as well as biological data on the internet. It exists with us in computer based sheets/programs, printed reports, and some are still in handwritten notebooks. When volunteer time (and funds) allow us, we will either develop computer sheets/programs and/or publish in printed reports in which case we will make them publicly available as before. For further info see our Studies/Reports, and our web pages of select lakes!

Select other activities:

Stakeholders/associates:
Television shows:
[Return to primary index]
Lakes/Rivers-Nova Scotia

Emphasis should be on restoring lakes to their pre-cultural (i.e., modelled hindcast) phosphorus concentrations in order to minimize any negative impacts from undue cultural eutrophication. Our models have not been calibrated for highly coloured lakes (DOC > 10 mg/l) due to humic and fulvic acids. Such lakes may have relatively high background phosphorus concentrations. But in some cases, it may be uneconomic/impractical to achieve such restoration.


LAKES/RIVERS in the Halifax municipality (this link opens in a new window)

Stormwater and Your Health: A message from the Medical Officer of Health, Nova Scotia Department of Health and Halifax Water's Pollution Prevention Office (April, 2016)



Our Studies/Reports
Our Phosphorus/Cha models
Lake Data:

Note: It is impractical to publish all of our extensive archives of chemical as well as biological data on the internet. It exists with us in computer based sheets/programs, printed reports, and some are still in handwritten notebooks. When volunteer time (and funds) allow us, we will either develop computer sheets/programs and/or publish in printed reports in which case we will make them publicly available as before. For further info see our Studies/Reports, and our web pages of select lakes!
Lake comparisons-Nova Scotia (this info is mostly from older Government reports for comparison purposes only)

Reference lake types used as indicator thresholds for anthropogenic stressors (cf. Mandell, 1994)



OECD applications-Nova Scotia, and an example of an application of the OECD Probability Distribution Diagrams for lakes in Halifax, Nova Scotia


Paleolimnology-reconstructing past environmental conditions:
[Return to primary index]
Regulators
Nova Scotia Dept. of Environment:
Halifax Regional Municipality-HRM:
[Return to primary index]
"............ one other prominent (or at least parochially beloved) mammalian lineage has an equally long and extensive history of conventional depiction as a ladder of progress--- yet also lives today as the single surviving species of a formerly more copious bush. Look in the mirror, and don't be tempted to equate transient domination with either intrinsic superiority or prospects for extended survival." --- S.J. Gould (The US Library of Congress named him a "Living Legend" in April 2000)
We salute the Chebucto Community Net (CCN) of Halifax, Nova Scotia, Canada for hosting our web site, and we applaud its volunteers for their devotion in making `CCN' the best community net in the world