Disclaimer & Copyright Notices; Optimized for the MS Internet Explorer
Soils and Erosion
Soil & Water Conservation Society of Metro Halifax (SWCSMH)

April 10, 2012

Also see Typical pollutants in stormwater runoff; and Relationships with Man, Freshwater Benthic Ecology!
---
Contents:
---
Guide for Textural Classification (USDA-SCS)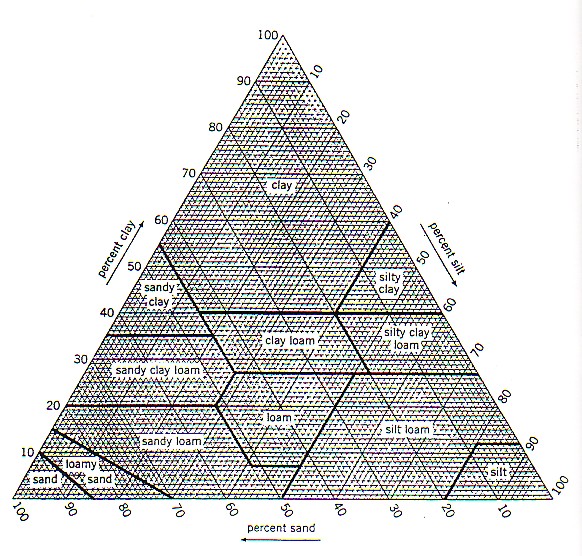 ---
Classification of mineral substrates by particle size, according to the Wentworth Scale
(Allan, 1995)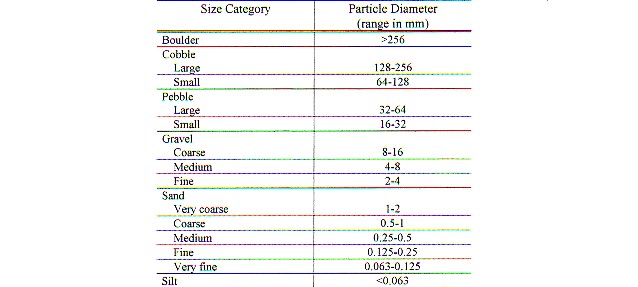 ---
Rate of settling in pure, still water- @temp=10°C, sp. gravity of particles=2.65, shape of particles=spherical
(Welch, 1935)


---
(pers. comm.) Burney, J.L. Professor of Biological Engineering, DalTech, Nova Scotia
"As a rule of thumb, a typical barren site in Halifax and Wolfville soils yields 40 tons/ha-yr of topsoil at 10% slope, which may be approximately equivalent to the capacity of 40 pickup trucks."
---
Estimated Average Erosion Rates- Louisiana forested areas
(USEPA, 1980 [Source: Alan H. Plummer Associates, 1979])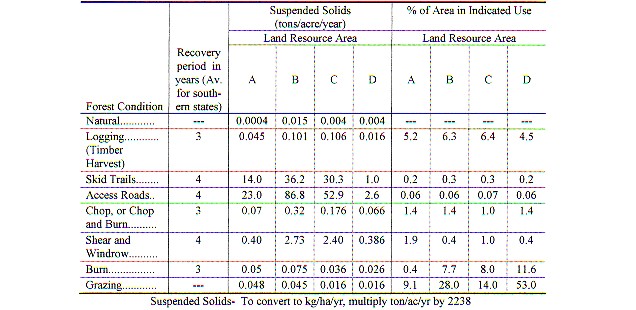 ---
Factors involved in the magnitude of P transfer
(Haygarth, 1997)
The selectivity of the erosion process for fine material, since P is associated predominantly with the clay-size fraction (<2 µm).
Sorption of P during transport.
Selectivity of erosion for organic matter or clay minerals which have a larger surface area and therefore a large capacity to sorb P during P transport.
The use of buffer strips and riparian zones are useful, but should not be viewed as the ultimate solution.
---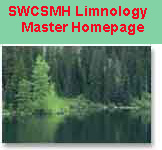 We salute the Chebucto Community Net (CCN) of Halifax, Nova Scotia, Canada for hosting our web site, and we applaud its volunteers for their devotion in making `CCN' the best community net in the world
---