Disclaimer & Copyright Notices; Optimized for the MS Internet Explorer
Mandell's Comparative Lakes for HRM
Reference lake types used as indicator thresholds for anthropogenic stressors of urban lakes
Web page of the Soil & Water Conservation Society of Metro Halifax (SWCSMH)

Modified: January 07, 2016

---
Contents:
---
Preamble
(cf. Mandell, P.R. 1994. The Effects of Land Use Changes on Water Quality of Urban Lakes in the Halifax/Dartmouth Region. Dalhousie University. 170p.)
For the above thesis:

Supervisor: Prof. Bill Freedman PhD, Biology Dept., Dalhousie University
Readers:

Nelson Watson PhD, Freshwater & Anadramous Division, DFO
S.J. Farmer PhD, Freshwater & Anadramous Division, DFO
Paul Mandell was an experienced biologist on contract with the Federal DFO before he went back to conduct his graduate study at Dalhousie Biology Department. Indeed, one of the founding members of our scientific group, the Soil & Water Conservation Society of Metro Halifax (SWCSMH), the now deceased Prof. Dr. Gordon Ogden III, an Yale doctorate and professor at the Dalhousie Biology Department for decades, gave high accolades Mandell's concepts at the Government workshop on the Draft Nova Scotia Environment Act on April 14, 1994!

Mandell's thesis was indeed donated to us by Prof. Gordon Ogden III PhD of Dalhousie University!
---
Caution
While the thesis is an excellent one, the reader of Mandell's thesis should keep in mind the following significant errors and shortcomings in it:
Mandell's thesis claimed, quite erroneously, that there had been no studies conducted in the metro area on the effects of land development on lakes. Mandell (and his supervisors) were totally wrong; there have been numerous studies conducted including our advanced modelling based on some of the world's top models.
Unfortunately, the thesis was critical of the Carlson's Trophic State Indices (TSI) although they are used worldwide. We totally disagree with Mandell's conclusions. We surmise that Mandell had poor correspondence among the TSI's not because there was any shortcoming in the indices themselves but because his field data for the vast majority of lakes were only discrete surface samples taken once during each of four seasons.

Indeed, the Carlson's TSI's are used even as regulatory tools in the world's leading jurisdictions inclusive of the USA!

Some of the watersheds were quite erroneously mapped by Mandell. As two prime examples, he claimed that First Lake drains into Second Lake which is erroneous since both of these lakes are headwater lakes; he also claimed that Dartmouth lakes Banook and MicMac drain into Lake Charles which is incorrect; for the Shubenacadie River headwater lakes see the watershed flowchart.
---
Abstract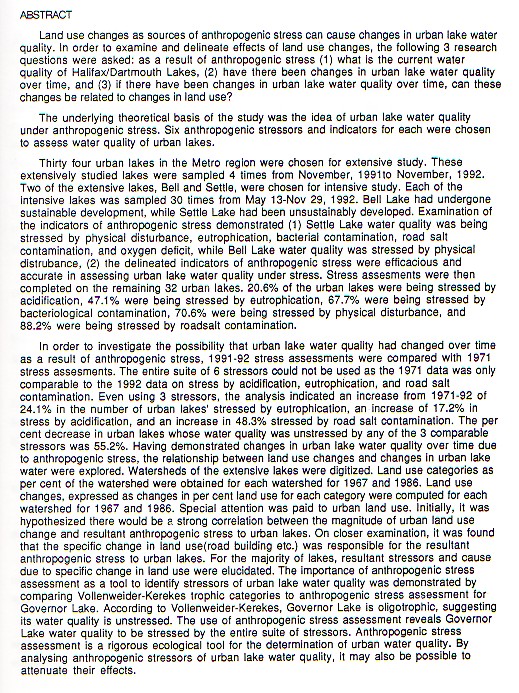 ---
Indicators of Anthropogenic Stress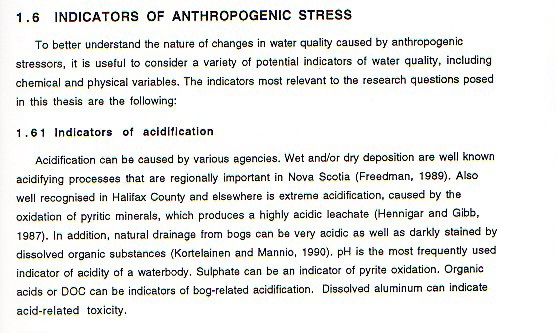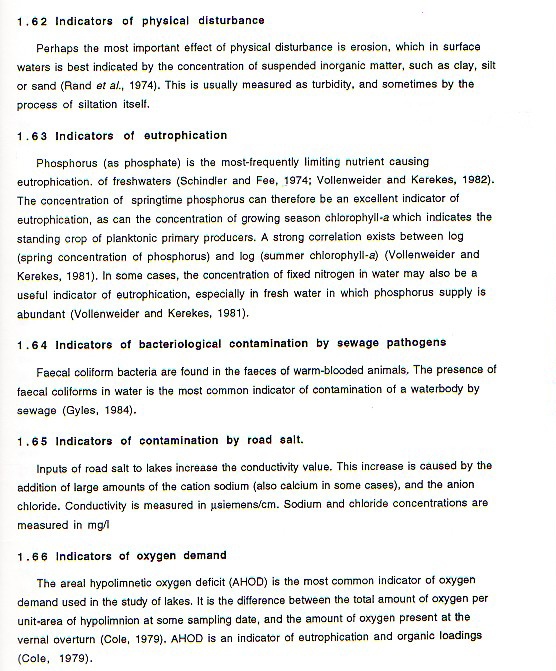 ---
Indicator Thresholds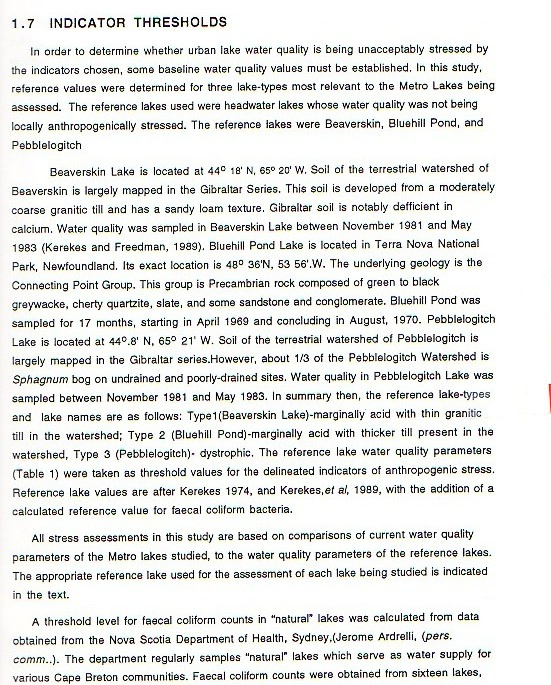 ---
Reference Lake Types used as Indicator Thresholds for Anthropogenic Stressors of Urban Lakes: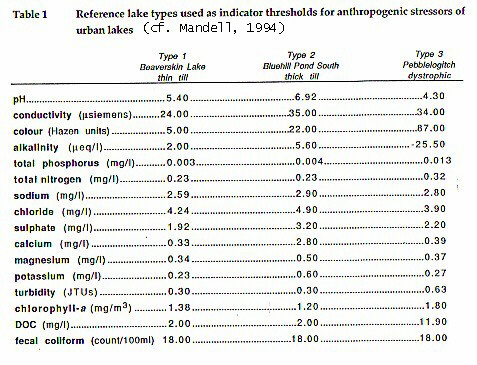 ---
Urban lakes:- Percent change in urban land use and indicators of stress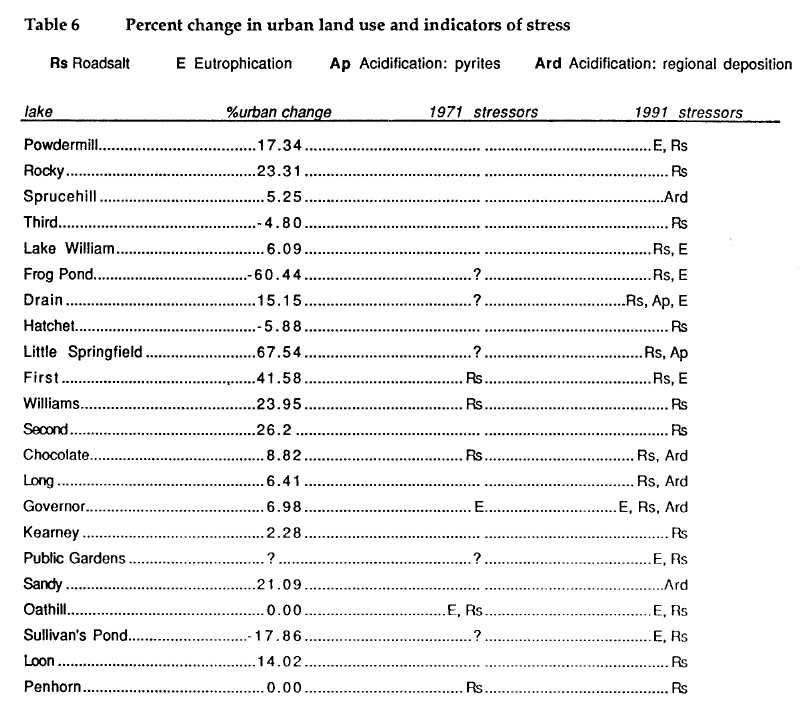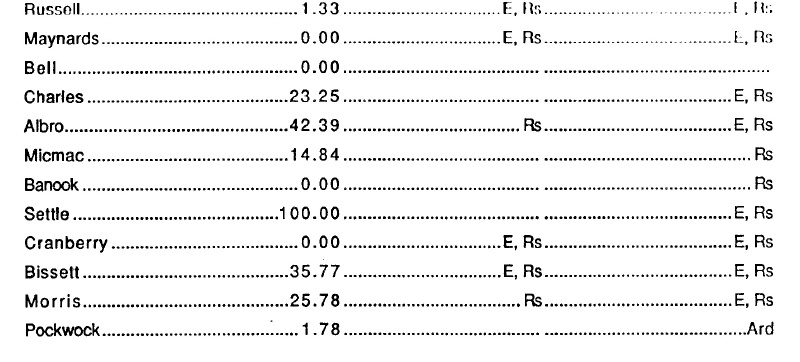 ---

We salute the Chebucto Community Net (CCN) of Halifax, Nova Scotia, Canada for hosting our web site, and we applaud its volunteers for their devotion in making `CCN' the best community net in the world
---