Disclaimer & Copyright Notices; Optimized for the MS Internet Explorer)


Professional ethics
Soil & Water Conservation Society of Metro Halifax (SWCSMH)


January 01, 2016

---
Contents:
---
Be respectful of genuine Limnologists
For applied, i.e., practical limnology, obtain

accreditation in Lake Management

from independent scientific bodies in the USA and Europe! It is important that professional engineers, planners, and general biologists/ecologists are guided by and work in pragmatic partnership with genuine applied (or theoretical) limnologists in order to authentically protect our freshwaters in comparison with natural background values.

For example, most are aware that a well qualified (at grad or post-grad level) Marine Biologist and/or a Oceanographer specializes in the marine ecosystems, hence it always overwhelms some of us why the vast majority have never heard of a Limnologist, whether a theoretical limnologist and/or an applied limnologist. Limnology is indeed the prime discipline of freshwater sciences.

Essentially, there are two kinds of limnologists, the first, more common are THEORETICAL LIMNOLOGISTS (many freshwater biologists with graduate education/training could fall under this category though not necessarily in every case), and the second, less common are APPLIED LIMNOLOGISTS (accreditation/certification and/or proven `citations' may be needed from scientific authorities worldwide).

Extremely important re `qualified limnologists' with sincere salutations to the NS Dept. of Environment (note the term, `qualified'):-- Although the Nova Scotia Dept. of Environment (NSE) had proclaimed in year-2002 that new serviced developments which drain into lakes have to incorporate reports conducted by a QUALIFIED LIMNOLOGIST, still there seems to be tremendous resistance on the part of not only many regulators but also on the part of the vast majority of the professional consultants who act for the proponents; as a reminder, see Sec. V.2 in NSE's Policy in our web space.

We had indeed made numerous formal submissions to the NSE to that effect over the years commencing way way back in February 1994, and we even made submissions to the Law Amendments Committee of the Nova Scotia Legislature.

Even prior to the coming into force of the aforementioned Policy of the NSE on December 10, 2002, `common sense' should have told any authentic/dedicated professional about the professional competence of all educated people; one does not need a `policy' for everything.

All studies whether funded by the public purse or by private enterprise should always identify all the authors and their professional designations, in brief; they should also note any formal `acclamations' if they received any especially in the discipline covering the study domain.
---
Recommendation to all consultants and scientists: Follow the superb Canons of Ethics for Engineers
...... with thanks to Mr. Dermot Mulrooney MEng PEng, Director of Professional Practice, for supplying us the superb canons in 2003 ...... Take note of especially those canons which we marked that we feel are of special significance: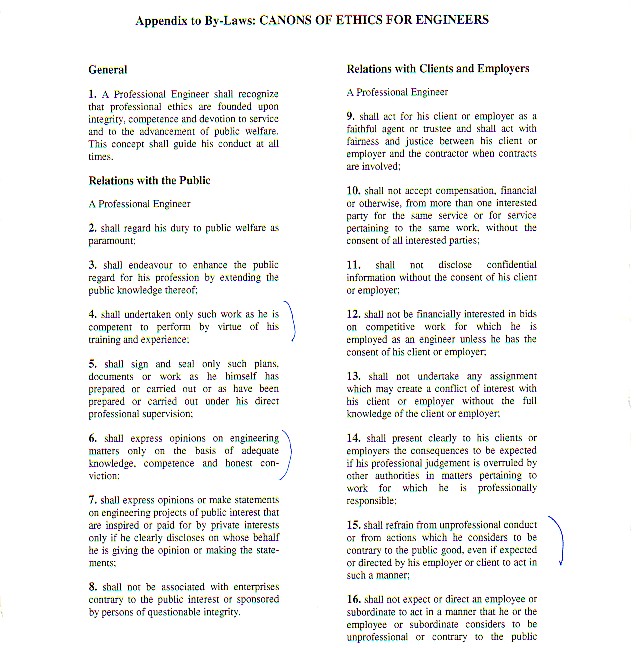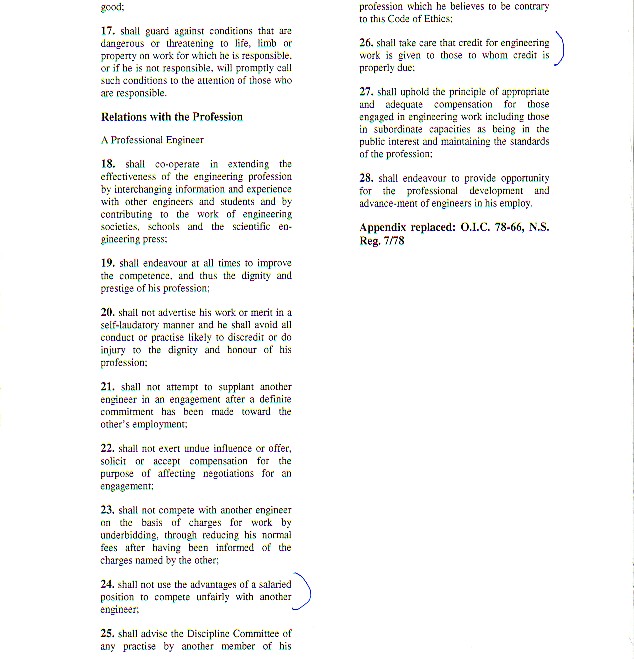 ---
3D Animated Flags--By 3DFlags.com

We salute the Chebucto Community Net (CCN) of Halifax, Nova Scotia, Canada for hosting our web site, and we applaud its volunteers for their devotion in making `CCN' the best community net in the world
---