Disclaimer & Copyright Notices; Optimized for the MS Internet Explorer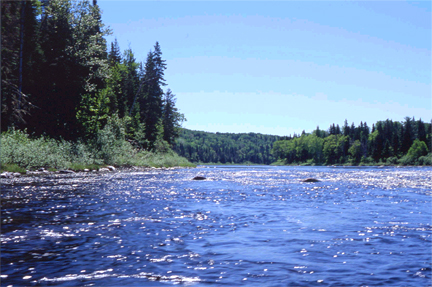 Rivers-the cradle of civilization!
Soil & Water Conservation Society of Metro Halifax (SWCSMH)




Two captivating (first-cut) songs titled, "It is Upto Us To Save Our Rivers, Nova Scotia Come Together", and "Daddy, this water looks funny", rendered for us by Terry Kelly during the early 1990s!

---
Contents:

Introduction

Table-1: Large rivers of the world (annual mean discharge near the mouth)


Table-2: Extreme natural chemical concentrations in perennial world rivers and streams compared to common water levels found in pristine environments

---
Introduction
Rivers gave birth to human civilizations in all continents. Indus, Chiang Jiang, Shatt el Arab, Nile have been the cradles of agriculture and of first towns some 7,000 years ago, and the Nok culture in Nigeria and the Marajo Island culture in the Lower Amazon, more recently discovered also attested to early human developments in these areas 2,000 years ago. As a result of the multiple and exponentially growing human activities, most world rivers are now being impacted, including by long range atmospheric transport of pollutants. These changes can be regarded as a global water quality issue. River surveillance activities are growing fast, particularly under the pressure of national and international regulations, the most important being the drinking water standards of the World Health Organization, WHO (1994). Chemical analysis of river water started with the birth of chemistry.

Forel (1882), the founder of Limnology, quotes some analyses of Lake Léman made by Tingry in 1808.
---
Table-1: Large rivers of the world (annual mean discharge near the mouth) (after Neiff, 1996; all links to river web pages are from Wikipedia, the free encyclopedia)
River
Mean discharge
(1000 m3ˇsec-1)
Drainage area
(1,000 km2)
Length
(km)
North America
Missouri
17.3
3,184
6,020
St. Lawrence
14.1
1,274
4,000
Mackenzie
7.9
1,784
4,241
Columbia
7.3
660
1,954
Yukon
5.1
921
2,654
Fraser
3.2
235
1,360
Nelson
2.3
1,059
2,570
Móbile/Tombigbee
1.6
107
598
Susquehanna
1.1
71
710
South America
Amazon
212.5
5,711
6,437
Orinoco
17
870
2,151
Paraná
16
2,278
3,998
Tocantins
10.2
896
2,700
Magdalena
7.5
238
1,600
Uruguay
3.9
230
1,612
Sao Francisco
2.8
665
2,900
Europe
Danube
6.2
806
2,850
Pechora
4.1
322
1,809
Dvina
3.5
355
726
Neva
2.6
279


Rhine
2.2
143
1,312
Dneper
1.7
496
2,200
Rhône
1.7
94
816
Po
1.4
69
648
Vistula
1.1
194
1,084
Africa
Congo
39.7
3,968
4,700
Zambezi
7.1
1,280
3,500
Niger
6.1
1,100
4,200
Nile
2.8
2,944
6,650
Senegal
0.9
338
1,633
Asia
Yangtze
21.8
1,920
5,980
Brahmaputra
19.8
924
2,900
Ganges
18.7
1,047
2,506
Yenisei
17.4
2,560
5,540
Lena
15.5
2,396
4,400
Irrawaddy
13.5
424
2,100
Ob
12.5
2,455
5,410
Mekong
11
793
4,000
Amur
11
1,822
4,444
Indus
5.6
916
2,900
Kolyma
3.8
637
2,513
Sankai
3.6
117
1,957
Godavari
3.6
294
1,440
Hwang-Ho
3.3
665
4,845
Pyasina
2.5
189
1,056
Krishna
2.0
304
1,120
Indigirka
1.8
355
1,725
Salween
1.5
276
2,400
Tigris-Euphrates
1.4
535
1,900
Yana
1
243
1,067
---
Table-2: Extreme natural chemical concentrations in perennial world rivers and streams compared to common water levels found in pristine environments (mg/l) (after Meybeck, 1996)
Type
Extreme
level
Extreme/
normal
Major
Rivers
range
(9)
MCNC
(10)
Drinking
water
standard
(11)
Extreme/
drinking
Std.
Salted
Ca+
607 (1)
75
2-50
8.0
--
--
Na+
6,300 (1)
1,700
1.3-25
3.7
150
42
Mg++
121 (2)
50
0.85-12.1
2.4
--
--
Cl-
9,400 (1)
2,400
0.6-25
3.9
200
47
SO4=
1,300 (1)
270
2.2-48
4.8
250
5.2
HCO3-
650 (2)
21
10-170
30.5
Acidic
pH
3.2 (3)
6.0-8.5
7.0
--
--
H+
6,300
Humic
DOC
43.4 (4)
10
1.0-20
4.2
Geothermal
K+
160 (5)
160
0.5-3.9
1.0
12
13
SiO2
280 (6)
26
2.4-20
10.8
Turbid
TSS
400,000 (7)
2,600
10-1,700
150
TOC
2,000 (8)
280
3-20
7.2
Footnotes: (1) Salt R. (NWT, Canada); (2) Red Water R. (Montana, USA); (3) Tose R. (Japan); (4) Larry R. (NZ); (5) Waipahihi R. (NZ); (6) Tokaanu R. (NZ); (7) Huang He at Sammenzia; (8) same as (7) assuming POC=0.5% TSS; (9) 2% and 98% of distribution; (10) Most common natural concentration; (11) WHO (1984)
---

We salute the Chebucto Community Net (CCN) of Halifax, Nova Scotia, Canada for hosting our web site, and we applaud its volunteers for their devotion in making `CCN' the best community net in the world
---