Disclaimer & Copyright Notices; Optimized for the MS Internet Explorer
The Shubenacadie song (i.e., the Stonemason's song),
and Land of the Silver Birch
Soil & Water Conservation Society of Metro Halifax (SWCSMH)

---
Contents:
Shubenacadie song- on video, performed by Vince Morash (vocal) of Halifax, Richard Fortier of Lower Sackville, and by the author of the song, Alastair Macdonald, of Cole Harbour; it is followed by Land of the Silver Birch, a relevant song for our beloved Nova Scotia
History of the Shubenacadie song, i.e., the Stonemason's song
Lifelike murals at the heavily travelled MicMac Parclo in Dartmouth, Nova Scotia, Canada
---
History of the Shubenacadie song, i.e., the Stonemason's song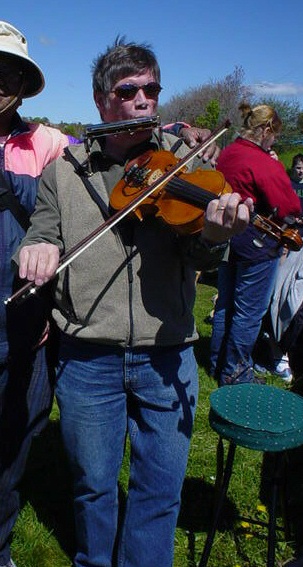 ......................... as enunciated by the author, Alastair D. Macdonald, to me,
Shalom M. Mandaville:---

"I wrote the Stonemason's Song about 1983, after being given some info by journalist Jon Stone, who was then on the Canal Commission. He is descended from a stone mason from the time, and was interested in a song celebrating its history.

Some time later I entered a home recorded version in the local CBC song competition, and it won in the folk category. It was subsequently recorded by CBC, with the Macdonald brothers, and including guitar and mandolin played by Dave MacIsaac.

In Allister MacGillivray's "The Nova Scotia Song Collection" (1989), he has printed the song, with a fine piano arrangement by John C. O'Donnel, the director of Men of the Deeps choir.

I am quoted as saying:
"Jon Stone of Dartmouth gave me background information on the history of the Shubenacadie Canal, and he suggested that I write something from the point of view of the Scottish stonemasons. My brothers, (John and Bob) and I sang it at the dedication of a restored lock in Shubie Park, Dartmouth, and I remember the sense of history evoked by the beautiful setting on that occasion."
The song was recorded in 2000, on brother John (Spyder)'s cd, "By Land , By Sea", which has twelve of my compositions included."

---

We salute the Chebucto Community Net (CCN) of Halifax, Nova Scotia, Canada for hosting our web site, and we applaud its volunteers for their devotion in making `CCN' the best community net in the world
---