Disclaimer & Copyright Notices; Optimized for the MS Internet Explorer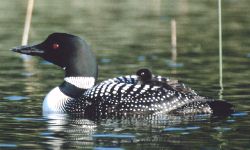 Phosphate levels in lakes found to be grossly inaccurate
Soil & Water Conservation Society of Metro Halifax (SWCSMH)

Modified: January 31, 2016

---
Article keyed in `as is' from the National Post, dated July 06, 2000
Tests that are widely used to gauge nutrient levels in lakes, oceans and drinking water are grossly inaccurate, according to Canadian scientists.

"We have been overestimating the concentration of phosphate 100- to 1,000-fold," says Jeff Hudson, of the Ontario environment ministry, whose team describes its findings in the journal Nature today.

Phosphate is both a major pollutant and a key nutrient controlling the growth of micro-organisms and phytoplankton. It is also part of the global warming equation, because it helps control how much carbon dioxide is sucked out of the atmosphere by plankton in the world's oceans.

Hudson, who works at the Dorset Environmental Sciences Centre north of Toronto and is a post-doctoral fellow at Trent University, says that misleading data lead to "ridiculous" models of aquatic systems and their nutrient budgets.

He says the tests themselves generate a lot of phosphate. They use a water-filtering process that tears open micro-organisms found in the water, releasing the phosphates they contain. And acids and reagents used in the tests transform phosphorus into phosphate.

Hudson says scientists have long been aware that the tests had problems. He and his colleagues David Schindler from the University of Alberta and Bill Taylor of the University of Waterloo, decided to quantify them by taking a close look at phosphates in 56 lakes across North America.

Using a new "radiobioassay", they found that concentrations of "bioavailable" phosphate in the lakes were a fraction of the levels indicated by other tests.

Micro-organisms in the lakes are very efficient at taking up and recycling phosphate. The amount in the water is very much under "biological control", says Hudson. "As one bacterium takes it up, the phosphate is another bacterium is being consumed and spit out the butt of a larger organism".

Phosphate is in short supply in many parts of the oceans and some unpolluted lakes. But it is often too abundant. Phosphate, from fertilizer and human and animal manure, is a major pollutant in lakes, rivers and aquifers. It has long been recognized that excess phosphate leads to excess plankton- "You get green lakes", says Hudson, whose bioassay should give a better read of what is happening in polluted systems.

It is also expected to lead to better models of the biological and geochemical processes at work on a global scale.

"If we have phosphate readings that are totally inaccurate, your models are going to be ridiculous", says Hudson, noting how phosphate is thought to play an important role in the carbon cycel.

"Nutrients is where it's at because they control how much carbon is going to be sequestered by the oceans", he says, noting that a shortage of phosphates in the Mediterranean, the mid-Atlantic and mid-Pacific may be limiting marine life. This in turn could limit how much carbon dioxide is sucked out of the atmosphere.

"All in all, we are left with a sobering thought - that the results of [the Canadian work] means that a large literature on phosphate concentrations in aquatic ecosystems, and also models of nutrient dynamics, may be in jeopardy", says David Karl, a University of Hawaii oceanographer writing a commentary accompanying the Nature paper.

"If the results are confirmed, this study will stand as a pathfinding contribution in aquatic ecology", says Karl.
---
3D Animated Flags--By 3DFlags.com
"Sounds provided by and copyrighted to Naturesongs.com, 1997-2004"




We salute the Chebucto Community Net (CCN) of Halifax, Nova Scotia, Canada for hosting our web site, and we applaud its volunteers for their devotion in making `CCN' the best community net in the world!
---