Alberta, Canada would pay minimal economic costs under Kyoto: report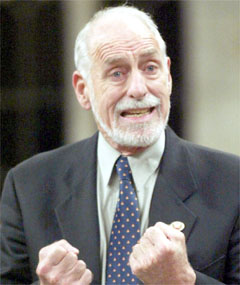 (CP /Tom Hanson)

ADVERTISEMENT

OTTAWA (CP) - The Kyoto Protocol could be enforced with only slight economic costs, no loss of existing jobs, and no disproportionate impact on Alberta, says a study done for the federal government. The economy would grow by about 16 per cent by 2010 with Kyoto implementation, compared to 18 per cent under a business-as-usual scenario, according to economic modelling made public Friday.
The economy would produce 1.26 million new jobs by 2010 with Kyoto, as opposed to 1.32 million under the status quo - about 60,000 fewer jobs over eight years.
"The message is: modest impacts and evenly spread," said an official who cannot be named under the rules of a technical briefing.
The model doesn't attempt to measure benefits associated with Kyoto over the long term, such as fewer premature deaths due to dirty air, or fewer extreme weather events.
It also assumes implementation with no increase in taxes but with major investments in energy efficiency and alternative fuels. Alberta's energy industry would continue to grow thanks to an emissions trading system, officials said.
"What you'll find happening in Alberta is there's big growth in the oil sand and there's new coal-based generating plants coming on.
"What's really quite remarkable about the results in all of this is how little Alberta is touched," said an official.
The study is vulnerable to criticism because it assumes that Canada will cut emissions by 170 megatonnes rather than the 240 megatonnes required to meet the Kyoto target.
When the modelling began, Ottawa was insisting on a 70-megatonne credit to offset its exports of so-called clean energy exports to the United States. That credit now seems unlikely in the face of European opposition.
Officials suggested the results of the study would not change dramatically even without the 70-megatonne credit.
The study was done by two private firms, Informetrica and Canadian Energy Research Institute, using their own economic models.
Federal officials readily admit that their model, like all economic models, is based on many assumptions that could prove incorrect. They said it nevertheless gives important clues as to how a Kyoto implementation plan could best be designed.
Critics of Kyoto, especially in oil and gas-rich Alberta, fear the unknown costs of cutting emissions.
But federal Environment Minister David Anderson said he's not worried by Alberta's plan to draft laws to block Kyoto in that province.
"Let me say unequivocally: that is not our concern at all," he said Friday outside the Commons.
Ottawa clearly has constitutional jurisdiction to push nationwide solutions to global warming and other international problems, Anderson said.
"We think there's plenty of precedents on the books on this. When you're dealing with international matters of this nature, you have to deal with the federal government.
"It's not a constitutional question - it's a question of dealing with emitting industries."
Kyoto calls for Canada and most other major industrialized countries to cut so-called greenhouse gases to six per cent below 1990 levels by 2012.
The long-awaited federal plan is to be presented to provincial environment ministers Oct. 21. Prime Minister Jean Chretien has said he will ask Parliament to approve ratification by the end of the year.
Patrick Monahan, a constitutional specialist at York University's Osgoode Hall Law School, said Ottawa's power to implement Kyoto will depend on how it tries to enforce emission cuts.
"It could take, for example, the form of subsidies or tax breaks which are clearly a matter of federal jurisdiction," said Monahan.
Ottawa could have a harder time justifying its jurisdiction if it tries to take a more direct regulatory role with measures that overlap provincial powers, he added.